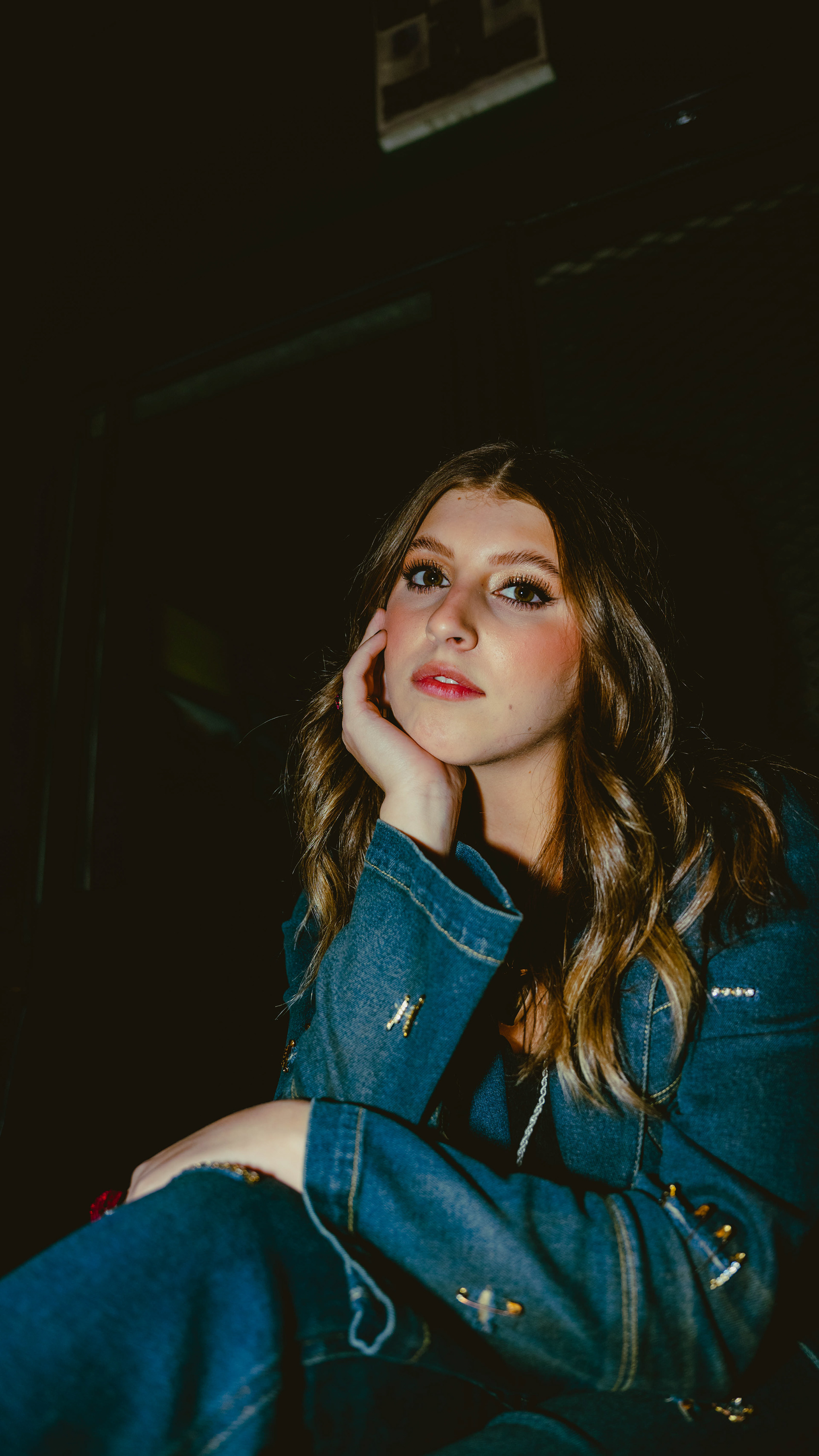 Back in October, we had the opportunity to catch singer-songwriter Lindsey Lomis for a quick chat before playing a sold out show at The Troubadour in Los Angeles about the timeline of her career, some of her musical inspirations, and how important it is to her to be a woman in music.
To begin the interview I had to ask her when did you know that this was your path?
I feel so lucky that I grew up in Nashville because it's a music city, and my parents love listening to music. They took me to a lot of shows since I was a little kid, but they never really played too much. My mom taught me my first chords and that was kind of it, so I feel like the city kind of raised me in a way. Then, I had the opportunity to do some music camps as a little kid like singing camps and band camps, and then I would make friends with a lot of the camp counselors, they became kind of like my mentors. They would get me a lot of gigs outside of the camps, and so I felt really involved in the city at such a young age and that was super encouraging, especially being that young. 
Who helped guide your journey in music?
Honestly, they were all female musicians and independent writers, whether they were writers, artists or whatever they were doing, they were doing it all by themselves and I think I was really able to learn so much from so many amazing women. I don't think I ever grew up and saw a woman and thought to myself "I can't do that", I was never thinking that it was all men in the industry, because I was always surrounded by women. 
What age did you start singing and pursuing a musical career?
I started singing from the day I could talk. I picked up a guitar and started writing around age eleven, I just fell in love with it. I am so lucky to have parents that have supported me for so long throughout my career and writing process, and finding different camps for me to attend, and they have been so helpful and I'm so grateful for them. Even to this day, they still help me on all my tours and everything. I think I fell in love with performing and music at such a young age, and it never felt like this "outlandish" thing I ever had to reach for since I grew up in Nashville, TN. 
What was your schooling background like?
I went to art school for highschool, took some guitar classes there and that was super fun, and then I actually switched over to online school halfway through to just really dive more into music and travel and everything, and it's been non stop since then, and I absolutely love it. 
Have you always been drawn to music/ did your parents inspire you/your music taste?
Definitely, for me it was always singing to begin with. It was my first love and I've done it ever since I was a little kid, and started seriously taking lessons when I was 10. But of course, I knew I wanted to be a singer since forever, but then once I started writing I felt like I got taken a lot more seriously, even by my parents. Especially since as a parent, writing is where the money comes from, so seeing that is like "she's actually going to write her own music" was kind of like a push to invest. Even though they had always supported me from the start. 

As far as influences go, I listened to a lot of this reggae station, Lightning 100, in Nashville and they would have free concerts all of the time that my parents would take me to. They also took me to see Allen Stone, who is one of my biggest influences, and then Lake Street Dive. But it's also the reverse too. I showed my parents artists like Tori Kelly, and they fell in love with her, so I definitely think I get a lot of influences from them and them taking me to live shows of artists I've never seen before, and that to me was like studying. The live music thing to me is my favorite because I just think "My god, I want to be on that stage". 
Have you ever met any of the artists that you really look up to and/or if you were able to meet a person who influenced your music so heavily, who would you want it to be? 
It's so crazy because I was actually just thinking about this the other day, and it feels very full circle since I was here [at The Troubadour in Los Angeles] a year ago, playing my first time and I was so stressed before playing my Troubadour show. Mainly because this has been my dream venue to play for so many years, and I was so stressed and worked up, I was talking to my dad about how it's changed so much because I've been touring this past year and I've had so many opportunities that little Lindsey would be so confused about, and so proud, but I don't think she would even realize that those people I looked up to so much were even touchable. I got to sing with Allen Stone this past year, like on stage for his show in Nashville, and that was a crazy moment because he is so much of my sound. I also played with JoJo at the Los Angeles show, and I opened for her on her tour, and was able to meet Tori Kelly backstage. I played it so cool, but I did sob after. Like as soon as I left the room, my tears just started to fall out.
Any funny stories of meeting these inspirations?
It's actually so funny because I noticed my dad talking to [Kelly's] husband, and I'm kind of struck with like the uh oh feeling, and I see him pull out his phone showing him the meet and greet photos of me and Tori from when I was like 12 years old. And as I was meeting her, she was saying "I thought you said this was the first time we've met" and I had to tell her "Yeah, but like not as a fan", and I was like humiliated but then I had to think that if someone did that to me, I would be so grateful to see pictures from a meet and greet. I feel like playing it cool is great to a certain extent but you can't not tell the artist who has shaped so much of who you are that you love them. You kind of have to take that chance to say "hey you are one of my biggest inspirations" and I definitely feel like that means a lot to me to say to them, and for them to hear from somebody.
That being said, you already sound so appreciative of people saying the same thing about being inspired by you, or even just loving your music, do you continuously try to go the extra mile to connect with your fans?
I am so appreciative of everyone who supports me. I've been opening this past year, so I freak out when people even sing just a few words of my songs because it's crazy that people know my music. But I think that my favorite part of opening is getting to talk to people afterwards, like I will be at the merch table every single night and will literally talk to every single person who gives me the time of day. And that's my favorite part, getting to make connections. Especially with a tour like this (in regards to touring with Joshua Bassett), a lot of the audience is around my age so it feels like we are all just friends. It feels so much more genuine and I feel like the way I engage with a crowd makes it feel more comfortable because I want everything to just feel like a conversation. And I want to create an experience where people feel like they can connect with me afterwards because that's the connection I crave with live music. Building a real connection with people who connect with your music is honestly the most important thing about live music. 
We know you've said that you've played shows and toured before, while you're on tour as an artist, how do you keep your mental health in check? 
Touring can definitely put you in one extreme to the next, so I'm definitely still working on figuring out how to keep myself in check. Getting into touring, I had no idea what it would be like, only that I had been dreaming of it since I was a little kid. Like it was my ultimate goal. The first couple of tours I did were so fun, but it was such a learning experience. I wasn't really taking care of myself, I wasn't really working out or anything. When I opened for JoJo, I saw that she had this regimen of waking up, going to the gym, and having a routine, seeing that as a female artist who was opening for bands before, it was nice to see how she took care of herself really made me realize what I needed to be doing also. So now I definitely work out whenever I can, and taking care of my body a lot more, and allotting time for myself and getting ready helps out because I definitely need that.
Do you think that people glamorize touring way too much?
It's kind of interesting because I've heard so many people do the opposite. Like so many people that I've talked to only talk about how touring is. They'll talk about how they hate being on the road and after years of doing it, of course it can be exhausting but I'm very new to this, and I have my parents with me who have known me my whole life, so I definitely think I have a way different experience than most people. But I can say that it is a lot of work. On top of the gratitude and happiness, it can get exhausting doing it every night and waking up in a new city every day, but I would literally never trade it for the world.
What age did you truly start performing? 
I would play at kids open mic nights when I was like ten or eleven, and I remember when I was ten, I would show up to the mic nights with karaoke tracks and just sing to the tracks. But one time I saw a girl play the guitar at the same event, and I thought to myself that I would not come back until I knew how to play the guitar because I felt so embarrassed that I was singing to instrumentals. So I did it, I learned guitar and went back and then was playing almost every week. I had gotten a lot of experience playing with just me and my guitar but playing with a band is a completely different thing.
Being so young and jumping into shows like this, how was that like?
Obviously during COVID I couldn't tour but that was probably what was best for me because I would've ditched school the first chance I got to go on tour, especially because I was doing online school. Once I did get my first tour, I got it with Wild Rivers and The Brook & The Bluff, and I pretty much sobbed the second I found out because it was my biggest dream. They were so welcoming and I learned so much from them, and they would give me so many tips and I learned a lot about the tone of my guitar and things like that. I feel like in the whole entire year I was really able to get a grip and hang of touring which is awesome. When I played here a year ago, I was a completely different artist, so it's so crazy being a new and experienced artist in touring and producing my own music and it's made me feel really confident in knowing what I want.
Lastly, what's your message for women who are looking to be up and coming artists or just in general to encourage them?
I would say that something I struggled with a lot was comparing yourself to other people in the industry. And especially as women in the industry, we were kind of meant to be set up against each other, but that's definitely not the case in this day and age. There are so many opportunities and different ways for you to promote yourself through social media especially! So I think that for me, I had to learn the difference between looking up to a female artist and comparing myself to them. Because even when I was younger, I was comparing myself at 12 years old to vocalists like Adele, Amy Winehouse, and all these people who were singing for so much longer than I was, I had to step back and realize I was still learning. Really just think about how you can be really inspired by this person and what they can do, and think that you want to be in their place one day, but it's less of their place but up next to them. You can definitely think that you want to play a venue one day, or play a certain show, but you can't let that consume you because it can really debilitate you, so be inspired by that instead of letting it stop you in your tracks.
You can catch Lindsey on her last leg of tour with Joshua Bassett in Los Angeles, CA on April 11 & 12, 2023 at The Wiltern. She is also releasing her senior Extended Play, "Universe", April 14 and is available for pre-save now.